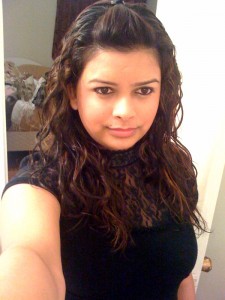 April 09, 2011
God Bless you Saints.  I would like to start by thanking God for his Amazing Grace and Mercy unto me.  About 3-4 weeks ago I was in service and was experiencing stomach pains that were very severe.
I remembered Bro. Nelson closing the service and asked the congregation to stand and ask the Lord for whatever it is that you desire. He quoted "the Holy Spirit is here", as the saints were worshiping  I heard a massive scream from behind me as one of the sisters were being blessed, I then continued to close my eyes saying "Lord don't pass me by". Bro. Nelson was praying for the sick and while doing so I placed my hand on my stomach and asking for God to heal me.
After service I went home and felt worse, I remember His word and kept thanking God for my healing.  After four days I continued to feel no different and I know the real test was at hand. I then decided to go to my family doctor but he was away on vacation and I would have to wait for an entire week before he returns.  That same afternoon I went to the pharmacy and explained my stomach problem and the severe burning I was experiencing and was told I needed a prescription in order to get any medication relating to my symptoms.  I then went to the Walk-In Clinic right beside the pharmacy and asked to see a doctor, the receptionist quoted "we no longer accept new patience" you have to go to another Walk In.  My frustrations began to grow nevertheless; I knew what was expected of me. I went home that afternoon, placed my hands on my stomach and began to thank God again for my healing. Although, all I felt was pain I know that God is still God and capable for healing me.
Two days later the flesh started to panic and I went to another Walk In Clinic where I was seen by a doctor. It was diagnosed by her that I had a bladder infection and was required to complete a few ultrasounds. I was given antibiotics for seven days and if that did not work the doctor would have to further examine me. The Sunday I went to church Bro. Nelson was preaching about "Pride" and had a prayer line for anyone that needed prayer. I still remembered that I did pray and I know God heard my prayer and I still kept on trusting and believing that I was already healed.  After the first week was completed and I felt no different only worse, Now the second week was approaching and it was time to be Healed "pride" was exposed and  I was not holding back on this sickness anymore. During that week I continued taking the anti-biotic and completed the first ultrasound, nothing was found on the ultrasound; on the seventh day and final day of the pills I still felt no different.
I was at work and did not think of the pain and as I continued with my day not complaining but just trusting in God and his Word it was Gods time for my healing.  I had a final massive pain in my abdomen and flushed out two kidney stones that was not seen in the ultrasound or diagnosed by the doctor, the Magnificent Doctor Himself healed me,  I was no longer feeling abdominal pains, burning or any discomfort what so ever I  was COMPLETELY healed. Praise be to our ALMIGHTY GOD thank you for my healing.
Sis. Sarah